Book a Reading? Call us anytime. 1.800.712.0803
$8.99 for 15 minutes with SPIRIT15, New Clients Only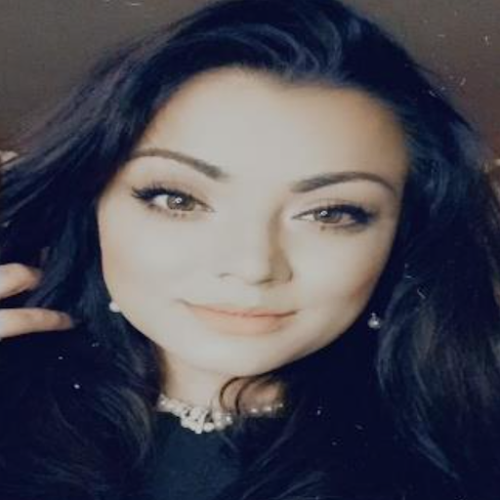 Nicole Tarot
Tarot Card Reader, Angel Card Reader, Oracle Card Reader, Chakra Reader, Numerology, Past Life Reader, Dream Interpretation, Empath
Nicole has grown up and been surrounded by spirituality all her life, since a child she has had a keen sense and deeper understanding for the depths of humanity and the soul. Nicole has been working with Tarot for several years and offers guidance around career, finances, love and relationships. Nicole also works closely with past life practises, as well as karmic relationships, healing guidance and chakra cleansing. Nicole looks forward to helping you find the answers, messages and guidance you seek.
Subjects
Love and Relationships
Career and Work
Destiny and Life Path
Past Lives
Annual Forecast Readings
Chakra Cleanse
Abilities
Tarot Card Reader
Angel Card Reader
Oracle Card Reader
Chakra Reader
Numerology
Past Life Reader
Dream Interpretation
Empath
Tools
Tarot
Angel Cards
Oracle Cards
Style
Warm
Compassionate
Direct
Amazing Sense!
"I had a reading with Nicole Tarot, she is very good at specific situations, especially present and on-going situations! She has an amazing sense of what is going on, specifically in the now. She was very helpful and gave me excellent advice. Thank you, Nicole Tarot"
V - January 2023
Knowledgeable & thorough
"I had a reading with Nicole Tarot and the way she read my cards was really professional. She was making sure I could hear her and taking it slow not rushing into it. She was very knowledgeable and thorough and seemed like she was passionate about reading. I really appreciate Nicole Tarot and the time she took to read my cards which really made me feel valued. She is a fabulous tarot reader and has a very calm and soothing voice."
H - January 2023
Uplifting
"Nicole Tarot is uplifting and constructive! I really enjoyed my reading with her"
Katie - February 2023
Truly Talented
"Nicole is unlike other tarot readers in that she lets the cards do all the speaking and doesn't ask questions that could influence the interpretation. She pays meticulous attention to each individual card as well as how the cards interrelate to one another. This allows for a very individualized and in-depth reading that is explained in a manner that makes sense. Nicole is truly talented and I believe that anyone who has a tarot reading from her will feel the same."
W - February 2023
On Point
"Nicole Tarot is down to earth and does not waste any of your minutes if your short on time and money. If you let her talk she is on point and dead on with whats happening in your life. Shes very understanding and not judgemental."
Manuel - February 2023
Lovely reader
"I found Nicole Tarot to be very lovely reader, shes very supportive and empathetic. Highly recommend!"
Sarah - February 2023
Lovely
"Nicole Tarot was lovely. I really enjoyed my reading and loved her channeling"
Charlotte - February 2023
Very talented reader
"Reading was very accurate. Nicole Tarot is very talented and as a client I am very happy. Five stars"
Aanchli - April 2023
One of the best
"Nicole Tarot is one of the best readers i've had. Everything that is happening in my life she covered, she saved my life and I am so grateful. Thank you Nicole Tarot, you are amazing!"
Celine - July 2023
Precise, and accurate. Strong psychic ability
"I started having readings with Nicole Tarot back in August when I was in a dark place, she is the only reader I have ever used.
Nicole is so precise and accurate when the reading is taking place. Her psychic ability is so strong she can tell me things that only I would know. Everything she's ever told me when I've asked about certain people, is absolutely true and correct. I would never change to a different reader.
Nicole has been my reader, I also see her as my therapist and a friend. I can just talk to her about things. She is so kind, understanding and so real, she says it how it is and I love that. She is what I can only describe as a good person, who I could honestly call and speak to for hours and hours about anything, and always come away feeling good about life and myself.
She's helped me through a tough journey in life, comparing how I was when we first spoke until now, I am a completely different person. She's helped me heal, grow and become what I believe to be the best version of myself so far, and I'm only getting better each day. That's down to her. I've done everything Nicole has suggested to grow, overcome and be my best self. All these things were really common sense but coming from Nicole, showing perspectives on things the way she does, it made me listen, take note and take action. I called her last night, I think it's the first time I've told her, "Nicole, I'm actually really happy with myself and life." That's down to her, so I cannot thank her enough. Hearing that's she's so proud and happy for me, made my year.
I've always said to her, she's that friend that everyone needs in life. She's that person that you can just talk to and she instantly makes you feel at peace, her approach, tone of voice and understanding of me, has ALWAYS helped, made me feel better and happy about everything.
The worst part honestly, is when the call ends. Even when I call for 40 minutes, it's never enough. As above, I could talk with her for hours and hours.
You have an amazing reader in Nicole and are very lucky to have her on your team. So, please keep her, I would hate it if she left and I could no longer talk to my favourite reader, therapist and friend! If there is a bonus scheme, she's definitely deserving of some recognition, not just from me I'm sure.
Keep being amazing Nicole, no doubt I will speak to you soon!
Peace, love and light,
Mitchell - November 2023
Great job at connecting
"I often read with Nicole Tarot, she is very kind and honest and such a caring reader. She is very direct and empathetic, and does a great job connecting and giving wonderful life advice. I just want to acknowledge her effort and kindness. Thank you, Nicole"
Harrindra - December 2023